Canon's Clinical Medical Research & Development (CMRD) has its North American headquarters at CMRU. The mission of CMRD is "To develop and validate Canon medical imaging technologies through efficient and timely clinical research performed with world leaders in biomedical science." To accomplish this, the Clinical Research group at CMRU is the glue that binds Canon's world-class engineers and developers together with clinical thought leaders in medical imaging to create a team that brings life-saving technology from the research lab to the clinic.
The CMRD team optimizes and clinically validates dose-saving iterative reconstruction technology, CT brain and body perfusion, dual energy technology, and clinical image quality. We also are deeply involved in international, multicenter clinical trials such as CORE320. The CORE320 trial is studying the ability of Canon's Aquilion ONE CT with 320×0.5 mm detectors to identify myocardial perfusion defects corresponding to significant coronary artery stenoses. The CTA and CTP data is compared to the standard-of-care catheter angiography and SPECT imaging.
Through clinical collaborations, CMRU's MR clinical collaborations team develops and validates Canon's cutting edge MR technology such as non-contrast angiography and cerebrospinal fluid flow imaging. In addition to our individual site collaborations, we are currently supporting the REACT trial which is a prospective multi-center international trial comparing non-contrast renal artery angiography by Time-SLIP with contrast CT angiography.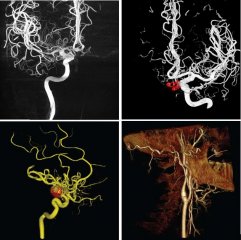 The CMRD XR/VL team establishes strong collaborations with world-class clinical, scientific and engineering leaders to advance the cardiovascular and neurovascular disease diagnostics and management. The CMRD team develops cutting-edge X‑ray technology for a variety of clinical applications, including the development of 3D roadmaps to aid precise catheter and interventional device navigation, the creation of an innovative approach to track, control and reduce radiation dose during interventional procedures, researching future generation of cost effective detectors to enhance X‑ray interventions, the manufacture of high performance angiography systems that yield state-of-the-art high-quality images, and other exciting R&D projects.
The Ultrasound Clinical Medical Research & Development (CMRD) team actively pursues new clinical applications and novel imaging methods that leverage Ultrasound to address unmet clinical needs. In conjunction with worldwide luminary partners, the CMRD team develops and validates Canon technology.
One such technology, Superb Microvascular Imaging (SMI), examines characteristics of early inflammation. In conjunction with the Quantitative Imaging Biomarkers Alliance (QIBA), we are looking for ways that Ultrasound can evaluate imaging and clinical biomarkers. Other work looks to enhance the ability to extract physiologic data and directly tie it to specific morphological structures by fusing real-time Ultrasound imaging with traditional volumetric imaging modalities such as CT and MR. We are exploring ways that Ultrasound can improve interventional procedures by guiding the physician in real-time without the use of ionizing radiation. Finally, we work to improve the clinical experience of our users through automation and optimized workflow.